Skrill can be used to pay/transfer and receive payments/transfers, and to buy and sell cryptocurrency. It is possible to open a multicurrency account if you want to.
In conjunction with MasterCard, Skrill is offering a prepaid MasterCard for the Eurozone.
Skrill supports 40 currencies (plus cryptocurrencies) and is available in 200+ countries. You can see if they are available in your country by visiting their official website.
Examples of how you can use Skrill
Transfer money to friends and family.
To make deposits into accounts online, e.g your casino account, your forex trading account, etc.
Pay using your prepaid Skrill MasterCard in the Eurozone.
Receive payments and transfers into your Skrill account, e.g. when selling a product or service online.
If you have an online business, you can integrate Skrill and use it to accept payments through a wide range of other payment options, such as direct bank transfer and various e-wallets.
The basics
You need to link your email adress or phone number to your Skrill account.
Why is Skrill so popular?
It is available in 200 countries worldwide.
Skrill is accepted by 120,000+ online merchants around the world.
Skrill has no prohibitions that prevent you from using it for online gambling. (List of skrill online casinos)
You can use Skrill to buy and sell cryptocurrency.
Skrill offers a prepaid card in colaboration with MasterCard.
The Skrill mobile app is very easy to use on smartphones and tablets.
Warnings
The fee structure is a bit complicated. Make sure you know in advance exactly what a particular transfer will cost you.
The Skrill-to-Skrill international transfers are convenient, but the currency exchange fees can become costly. Compare with other available international transfer solutions before making a decision.
Skrill is an authorized and regulated financial institution and must comply with regulations to prevent fraud, money-laundering, terror financing, etcetera. You can deposit funds into your account without first going through the detailed verification process, BUT if you exceed the deposit/payment/withdrawal limits with a non-verified account you risk having the account frozen until you have completed the verification process. These limits vary by country. You can find them under your Account Settings. Even with a verified account, Skrill is obliged to vet "unusual" transactions and even a verified account can be frozen. This is not a rule particular to Skrill.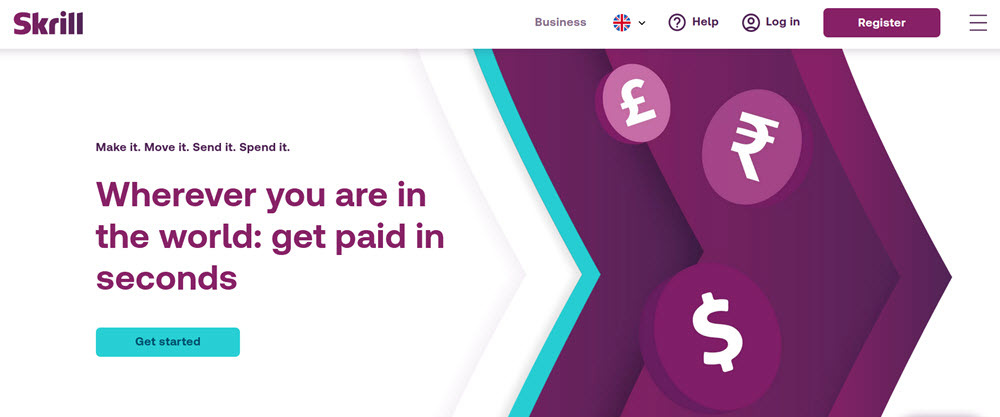 Fees
The fee structure at Skrill is rather complex, and vary depending on country. Do no rely solely on the information stated below: always check what your specific transfer would cost.
Opening a Skrill account is free.
Depositing funds into your Skrill account can be usually be carried out without paying a fee if you use direct bank transfer. Direct deposits to bank accounts via Skrill are also free for most clients. For other methods, you will be charged a convenience fee, except in the USA.
Withdrawing funds is usually not free. Typically, expect to pay a fixed fee in the €5.50 range. For some methods, the fee is flexible. You will for instance pay a 7.5% fee for a withdrawal to VISA within the Eurozone, and 1.45% (minimum €0.50) for withdrawals to a mobile wallet.
ATM withdrawal with Skrill Prepaid MasterCard in the Eurozone costs 1.75%.
Skrill usually charges 1.45% for sending money to another Skrill account, but this is not true for certain locations.
Domestic Transfer fees are up to 2% of the transfered amount.
International transfers without currency conversion are fee-free. For international transfers that involve currency conversion, Skrill adds a 3.99% fee over the Reuters exchange rate if you use Skrill-to-Skrill for international payments. Before you make a decision, check if Skrill Money Transfer would be cheaper.
Tip! You may be able to keep the costs down by signing up for Skrill´s loyalty and affiliate programs.