Plus500, which was founded in Israel back in 2008, has a strong focus on CFD trading. If you want to carry out CFD trading, they are an excellent option, since they are true experts in the field. If you want to trade through other means the Contracts for Difference, Plus500 is not the right choice for you.
Through the CFD:s offered by Plus500 you can gain exposure to foreign currency, equity, commodities, market indices, ETF:s, and more. Among other things, CFD:s are available for over 70 currency pairings.
Plus500 is owned by Plus500 Ltd, a company headquartered in London and traded in the AIM section of the London Stock Exchange.
Plus500 is regulated by several authorities around the world, including FCA in the UK, CySEC in Cyprus, ISA in Israel, MAS in Singapore, and ASIC in Australia.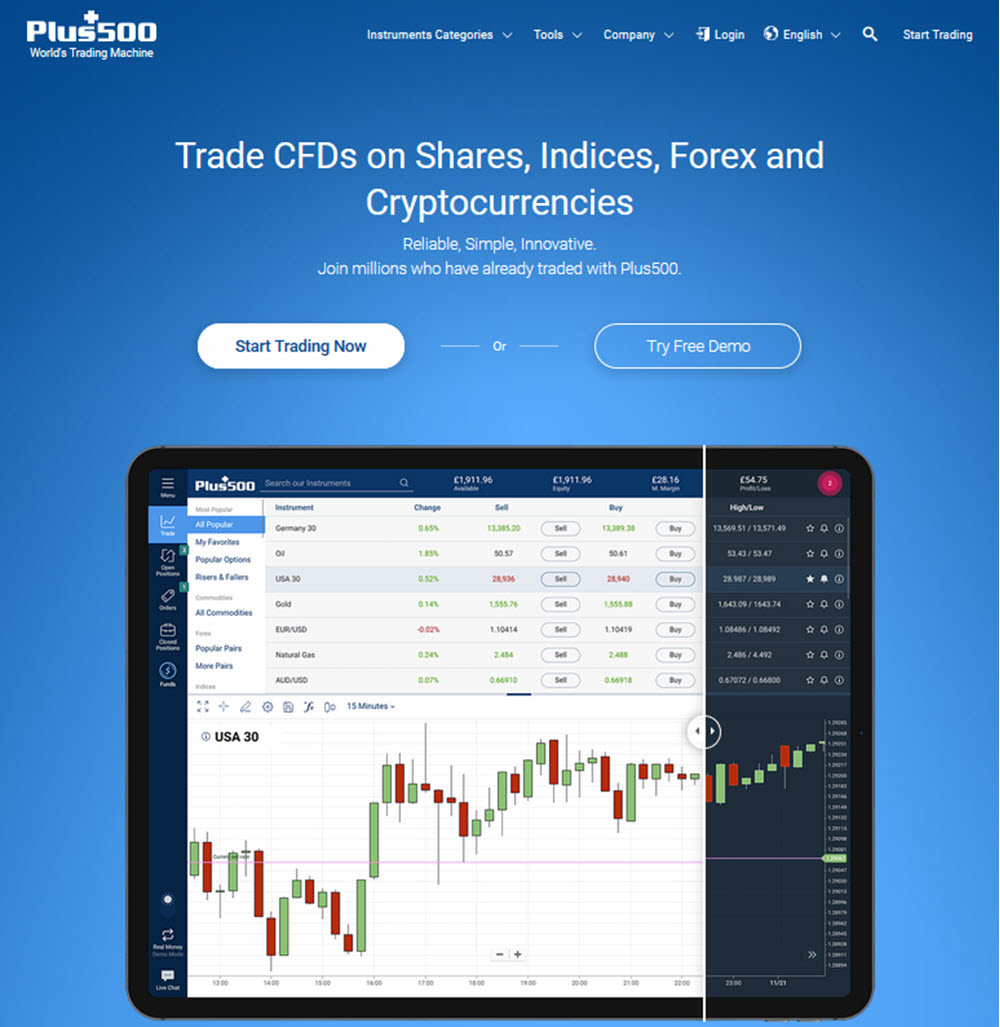 Account types
Real-money trading
Plus500 only offers one account type for real-money trades: the Standard Account. The minimum deposit required to open a Plus500 Standard Account is $100.
Demo Account
We recommend that you start out with a Demo Account, since this is a great way to learn the ropes without risking any real money. In the Demo Account, you trade using free play-money. You learn how everything works and you can try out different trading strategies. When you are ready, switching to real-money trading in a Plus500 Standard Account is very easy.
Trading platform
Only one trading platform is available and that is the Plus500 proprietary platform. This platform was developed specifically for Plus500. It is available for download and in a browser-based version.
Can I use MetaTrader4 (MT4) with Plus500?
No, unlike many other online brokers, Plus500 does not support the MetaTrader4 trading platform.
Can I trade on mobile devices?
Yes, the Plus500 proprietary trading platform can be used for trading on smartphones and tablets. There is an app available for iOS and another one for Android.
You can also sign up to get notifications and important movement info sent directly to your Apple Watch.
Spreads & Commissions
Plus500 offers zero-commission trading. They make their money from the spreads instead. Fortunately, this has not translated into huge spreads. The spread for EUR/USD is just 0.6 pips.
Always take a look at the whole picture to find out the true cost of using a specific broker. Spreads, commissions and other fees must be taken into account. Plus500 does for instance charge a $10 inactivity fee, which comes into play if you decide to leave your account inactive.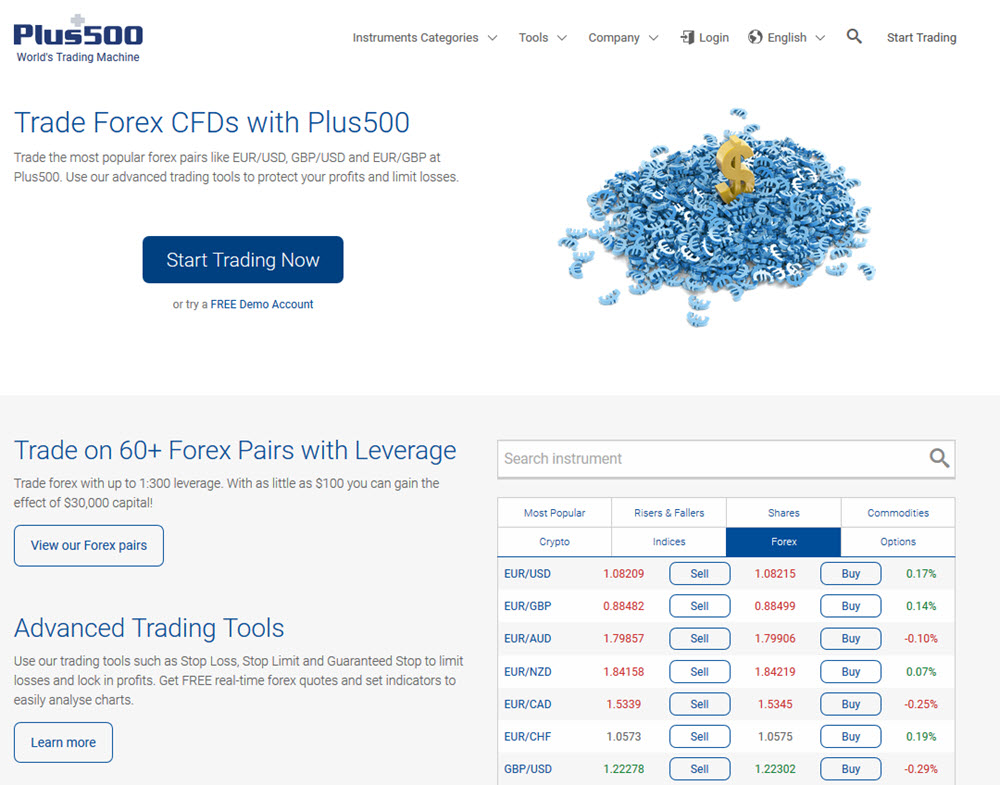 Does Plus500 offer leveraged trading?
Yes, Plus500 offers leveraged trading. The standard cap is 300:1, but you can have it lowered to 50:1 if you want to. Of course, simply not using leverage is very much possible.
Transactions
For deposits and withdrawals, Plus500 accepts:
Major credit/debit cards
Bank wire transfers
Certain e-wallets, including PayPal, Skrill and Rapid
Deposits through credit/debit card or e-wallet tend to be much quicker than using bank wire transfers to fund you account.
The average time required to process a withdrawal request is three days.
You can make 5 withdrawals per month without paying any withdrawal fee to Plus500 if you use credit/debit card or e-wallet. (If you want to make more than five withdrawals, the fee is $10 per withdrawal.) Withdrawals through bank wire transfer is never fee-free; you always have to pay $6 per withdrawal to Plus500.