With Oanda, you trade on their own proprietary trading platform, one with a focus on Forex and CFD. Over 120 instruments are available. With over 70 currency pairs, Oanda has been a great hit with FX traders online.
The roots of Oanda goes back to 1995, when Michael Stumm and Richard Olsen founded a company in the United States. Today, Oanda serves clients in nearly a hundred different countries.
Oanda is headquartered in the United States, where it is subjected to CFTC regulations. Outside the U.S., Oanda is complies with several other well-known regulatory authorities, including IIROC in Canada, FSA in Japan, FCA in UK, and ASIC in Australia.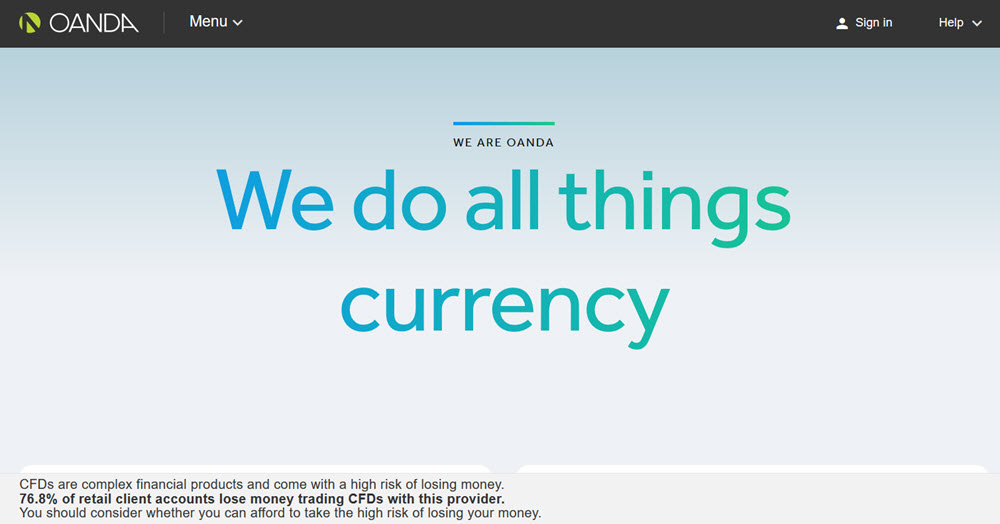 Account types
Oanda only have one account type of real-money trading.
There is no minimum deposit requirement, which is great new for anyone who is interested in trying out online trading but doesn´t want to make a big first deposit.
Notably, the Oanda account doesn´t offer any incentives for high-volume trading, and this choice makes us feel really welcome as small-scale hobby traders. Clearly, Oanda isn´t just about the big fish. Even as a tiny trader, you get small spreads here and access to the whole assortment of tools and features. The zero-commission trades offered by Oanda is also very appealing to beginners who doesn´t want their small bankroll to be eaten up by fees.
Trading platforms
With Oanda, you have two excellent options: MetaTrader4 and FxTrade. MetaTrader4 is a well-known trading platform used by a multitude of online brokers. FxTrade is a proprietary platform developed specifically for Oanda´s clients.
FxTrade
Overall, FxTrade is easy to use and it runs without hickups, but we aren´t super happy with the search function. Hopefully, this will soon be fixed – we want it to be easier to find and utilize.
FxTrade contains a lot of nifty tools and features and supports charting, including MultiCharts. Being able to view the market with 60+ indicators is great. An FxTrade API subscription will allow you to carry out automatic trading.
You can do a lot of customization with FxTrade and set up the interface in accordance with your own needs and preferences.
MetaTrader4
This is a very popular trading platform online, so if you have traded with any other broker in the past, you might already be familiar with it. MetaTrader4 (MT4) offers advanced charting options and have support for automated trading with EA:s.
Can I trade on mobile devices?
Yes, Oanda´s FxTrade platform is available for mobile use on smartphones and tablets.
Spreads & Commissions
Generally speaking, Oanda offers competitive spreads, despite also offering zero-commission trading. A spread of 1.2 pips for EUR/USD is something we like a lot when there is no commission to pay.
Oanda can offer execution as a market-maker, instead of using the agency-broker model where your ability to trade relies on a third party.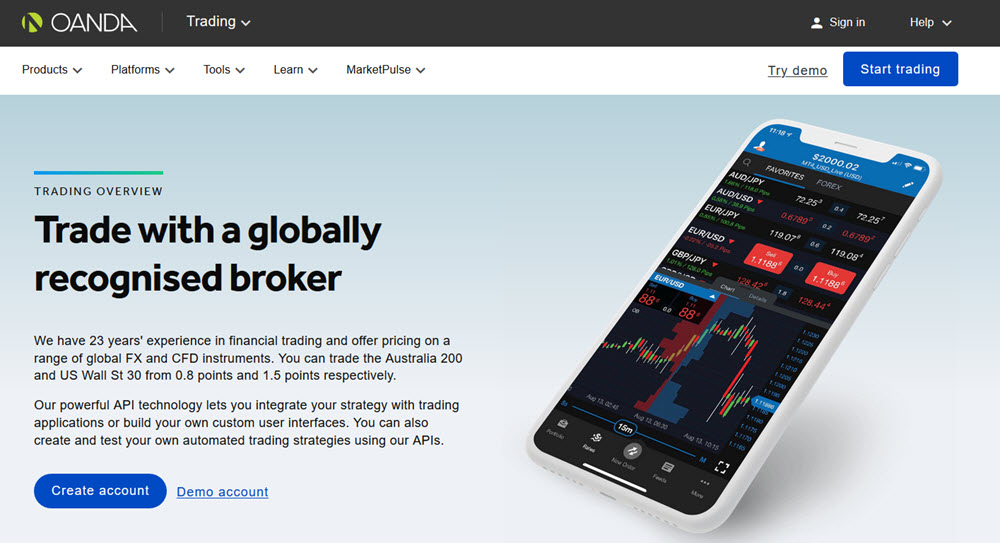 Does Oanda offer leveraged trading?
Yes, Oanda offers leveraged trading. Exactly what you can be offered in terms of leverage depends on your geographical location, since they must adhere to applicable regulations.
Transactions
Oanda accepts:
Major credit and debit cards
Wire transfer
The e-wallet PayPal
This is not a big selection, but it does include three different types of transaction solutions. We are happy to see that PayPal is accepted, since a lot of retail traders prefer to limit how many companies that get access to their credit card details online.
For users in certain geographical locations, more options are available for deposits and withdrawals.
The wire transfer choice comes with a $20 withdrawal fee. With credit cards, debit cards and PayPal you get to make one fee-free withdrawal per month.