IC Markets is chiefly famous for its low spreads on FX trading, but have a lot more to offer. This online broker has been around for over a decade and have a lot of satisfied clients.
IC Markets is owned by International Capital Markets PTY, which is based in Sydney, Australia. IC Markets is regulated by the Australian Securities & Investments Commission (ASIC) and this is a regulatory entity that is known to be strict.
IC Markets is a member of the Financial Ombudsman Service (FOS).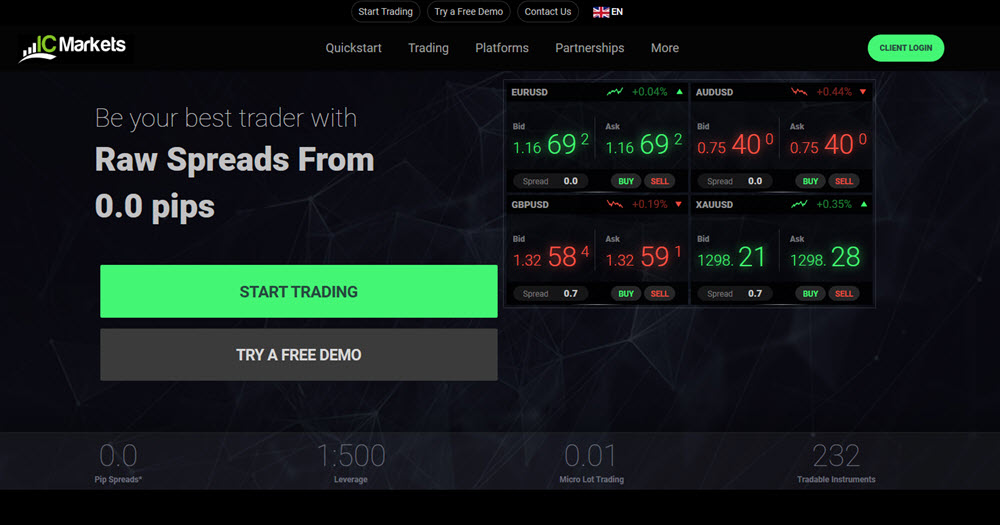 Account types
There are three real-money account types available at IC Markets:
Standard Account, which uses the MetaTrader4 (MT4) trading platform. Spreads start at 1.0 pips.
True ECN Account, which uses the MetaTrader4 (MT4) trading platform. Spreads start at 0.0 pips.
cTrader ECN Account, which uses the cTrader platform. Spreads start at 0.0 pips.
A minimum deposit of $200 is required for any of these three account types.
Maximum leverage is 500:1 for any of these three account types.
Demo account
Before you start trading with real money at IC Markets, we recommend you use the free Live Demo to familiarize yourself. Play around with free play-money and learn the ropes before you start risking real money.
Trading platforms
As an IC Markets client, you have access to three trading platforms: MetaTrader4, MetaTrader5 and cTrader.
MetaTrader4 (MT4) is the most famous of the three, and it is used by a wide range of online traders. If you have traded online in the past, you might already be familiar with it, because it is definitely not exclusive to IC Markets. You can customize MT4 in various way to suit your preferences and needs.
MetaTrader5 (MT5) is the squeal to MT4. A lot of new features have been included in this modern updated version of the MT4. Yet, many traders prefer to stay with the MT4 since they are already familiar with it. With IC Markets, you don´t have to chose – you can try both platforms and see which one you prefer.
cTrader is a well-stocked platform, but can take some time getting use to if you have always traded in MT4 before. Among other things, you can trade 64 different FX pairs in the cTrader. We like the service cAlgo Trader and also enjoy cTrader´s excellent support for automated trades. Have your pick from ZuluTrade, Myfxbook's AutoTrade and Signal Trader's mirror solutions.
Can I trade on mobile devices?
Yes, IC Market clients can carry out their trades on smartphones and tablets.
There MT4 apps available for Android and iOS, and IC Market also provide apps for the CTrader platform.
When you trade in a mobile app, you have access to all assets, speeds and spreads – there are no differences in that regard. A range of tools and features, including charts, are also at your disposal, and so is One-Click trading.
Spreads & Commissions
IC Markets are famous for their tight spreads.
For EUR/USD, the average spread is 0.1 pip.
There is a commission system in place for some accounts, so it is important that you look at the whole picture when you evaluate IC Markets, to see if it is suitable for your particular trading style. It is important that you check spreads and commissions for your account type. The Standard Account offers commission-free trading, and will, therefore, have slightly larger spreads. The ECN Account have tighter spreads, but charges a commission.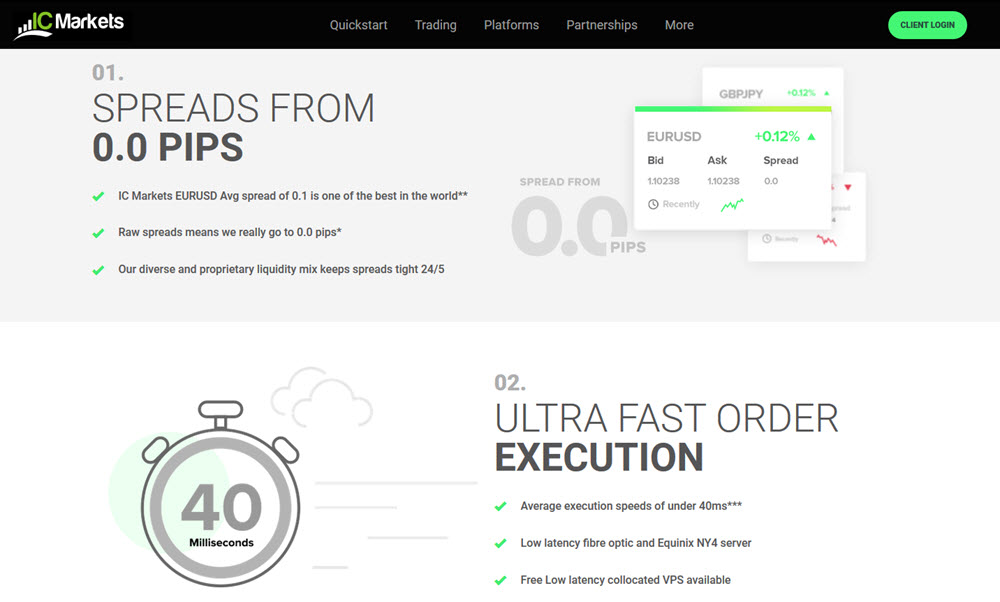 Does IC Market offers leveraged trading?
Yes, IC Markets do offer leveraged trading.
It doesn´t matter if you have a Standard Account, a True ECN Account or a cTrader ECN Account – they all come with the option of leveraged trading if you fulfil the requirements.
The highest possible leverage is 500:1. This is true for all three account types.
Deposits and withdrawals
We like that IC Markets accepts so many different transaction methods. Most potential clients can find something to their liking here. As always, it is important to look at each individual transaction method to find out about any fees for deposits and/or withdrawals, and how such a fee is calculated (fixed or percentage).
IC Markets accepts major credit and debit cards, bank transfers, and wire transfer. They also work with several e-wallets, including Neteller, WebMoney and FasaPay.
IC Markets accepts Broker-to-Broker transfers.
Withdrawal requests to a domestic bank or to an e-wallet are typically processed quickly and you can get your money after one bank day. Other withdrawal methods tend to take a bit longer, around 3-5 business days.
Currencies
With IC Markets, you can chose a base currency for your account. The available options are USD, EUR, GBP, AUD, NZR, CHF, JPY and SGD.