FxPro has been around since the mid-2000s and is now servicing clients in over 150 countries worldwide. Through FxPro, you can gain exposure to six different asset classes and 250 different financial instruments.
FxPro holds licenses from several authorities, including:
The FCA in the United States
DFSA in Dubai
CySEC in Cyprus
FSB in South Africa
SCB in the Bahamas
As always, it is a good idea to check which regulation applies to you and your trades. If you are in the European Union, pay special attention to the applicability of the MiFiD.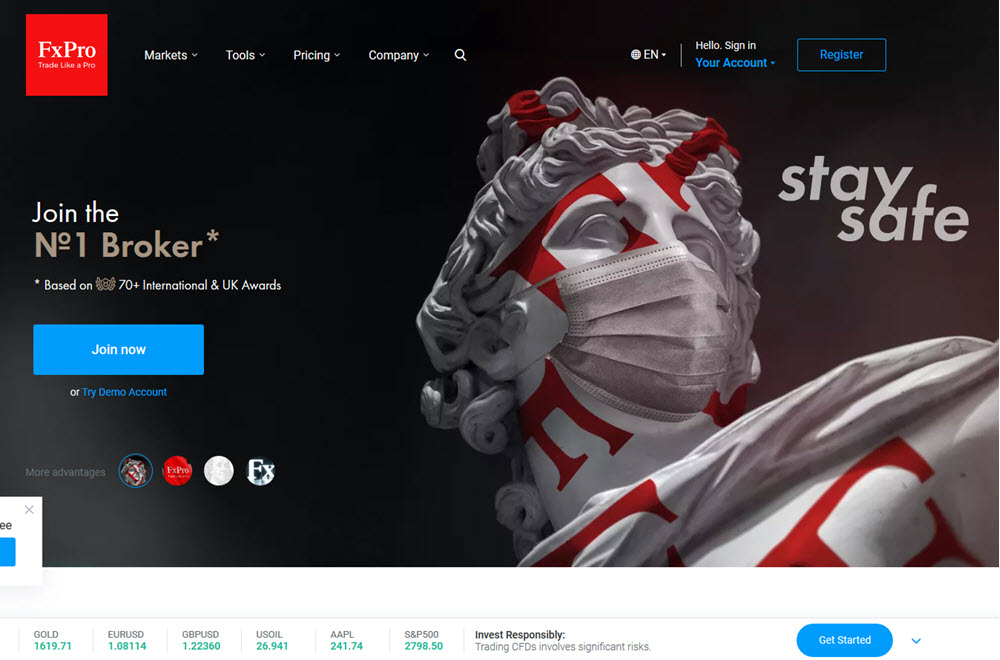 Account types
Demo Account (play-money)
Before you start risking your own hard-earned cash, we suggest you get yourself a Demo Account and take advantage of $500,000 in free play-money. Use this play-money to check out how things work, play around with various trading strategies, and generally learn the ropes of trading through FxPro. When you feel ready, switching over to real-money trading is easy.
Real Money Accounts
There are four different real-money account types available at FxPro: FxPro MT4, FxProMT5, FxPro cTrader and FxPro Markets.
With this account type, the MetaTrader4 (MT4) will be your trading platform. You can gain exposure to FX, equity, metal, energy, and indices. Maximum leverage is 500:1 (local laws permitting). Both fixed and floating spreads available. Supports EA:s.
With this account type, the MetaTrader5 (MT5) will be your trading platform. It is a sequel to the vastly popular MT4 and offers the same assets/markets, spreads and leverages.
With this account, you will use the FxPro cTrader platform, which was created with a focus on CFD trading.
This account type is especially popular among traders that are into algorithmic trading, which is carried out through cAlgo.
Some of the assets/markets available through MT4/MT5 are available here too, but the assortment is not identical so you might miss a few things.
With this account type, you use the FxPro Markets platform for your trading.
FxPro Markets is chiefly for exposure to FX, metal, energy and indices. Spreads are floating. Maximum leverage is 1:500 (local laws permitting).
Support for EA:s. The FxPro Quant Strategy Builder is available for automatic trading.
FxPro Markets has receive a lot of praise for the interactive advanced online charts.
Trading platforms
Four different trading platforms are utilized by FxPro:
MetaTrader4 (MT4)This is the famous MT4 platform, one that is widely used by online brokers and well-known and liked among the traders. If you have traded with any other broker online before, you might already be familiar with the MT4. It has become popular for good reasons, including its support for EA:s.

The MT4 is available for download and in a browser-based version.

MetaTrader5 (MT5)This is the sequel to MT4 and it is gradually gaining ground among the online traders. A lot of traders still stick to the old MT4 since they are familiar with that one, but MT5 has a lot to offer for those who dare to try something new.
FxPro cTraderThis platform is especially good if you are into CFD trading. It has received a lot of praise for its rapid execution speeds and how you can place orders while preserving a clear display of market depth.
FxPro MarketsThis browser-based trading platform comes with interactive charting, one-click trading and more. It is perfect if you want to use cAlgo and the FxPro Quant Strategy Builder for automated trading.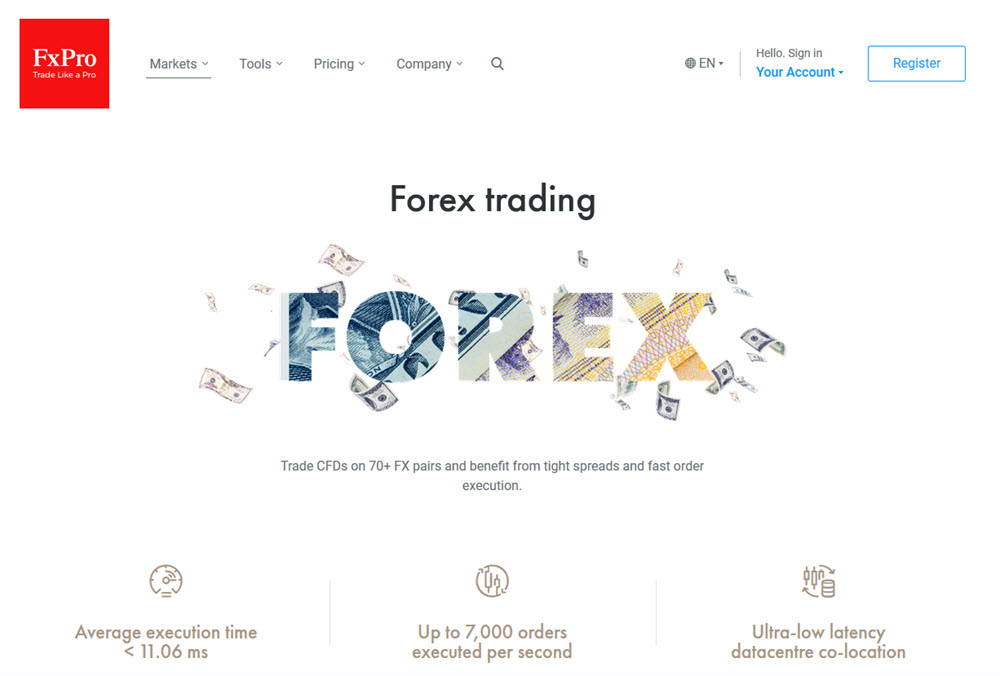 Can I trade on a mobile device?
The MT4 platform is available for mobile trading.
The MT5 platform is available for mobile trading.
The FxPro cTrader platform is available for mobile trading.
Spreads & Commissions
With an MT4 Account, your minimum fixed spread quotes will be around 1.2 pips.
With an MT5 Account, your minimum live spreads will be from 1.4 pips.
With an FxPro cTrader Account, your minimum live spreads will be from 0.3 pips.
With an FxPro Markets Account, you minimum spread will be from 1.2 pips.
FX spreads
GBP/USD 1.9 pips
EUR/USD 1.3 pips
GBP/EUR 1.7 pips
Commissions
The commission is $45 per million USD traded.
Examples of other fees
Beware of the overnight and rollover rates. There is for instance a $8.13 fee for long positions in EUR/USD and a $2.23 fee for short ones.
Does FxPro offer leveraged trading?
Yes, leveraged trading is possible here. Exact conditions vary depending on account type. The highest possible leverage at FxPro is 500:1.
Deposits and withdrawals
FxPro accepts a lof of different transaction methods. You can for instance use major credit and debit cards, do a wire transfer, or use an e-wallet such as PayPal, Skrill, Neteller or FasaPay. Broker-to-broker transfers are also permitted.
MPay is available for Chinese clients.
MonetaRU is available for Russian clients.
Always check the applicable transaction fees before selecting a method. Generally speaking, withdrawals from FxPro are fee-free. The are known to quickly process withdrawal requests – typically within one business day.