Forex.com is a part of the global giant GAIN Capital Holdings and has been around since the late 1990s. It is one of the largest retail brokers online and operates in a multitude of countries through various subsidiaries.
Through Forex.com you can gain exposure to 80+ currency pairs and nearly a hundred different CFDs. They also have support for cryptocurrency trading.
Forex.com (GAIN Capital Holdings) holds licenses from numerous authorities around the world, including:
CFTC in the United States
FCA in the United Kingdom
ASIC in Australia
The Securities and Futures Commission (SFC) of Hong Kong
The Monetary Authority (MAS) of Singapore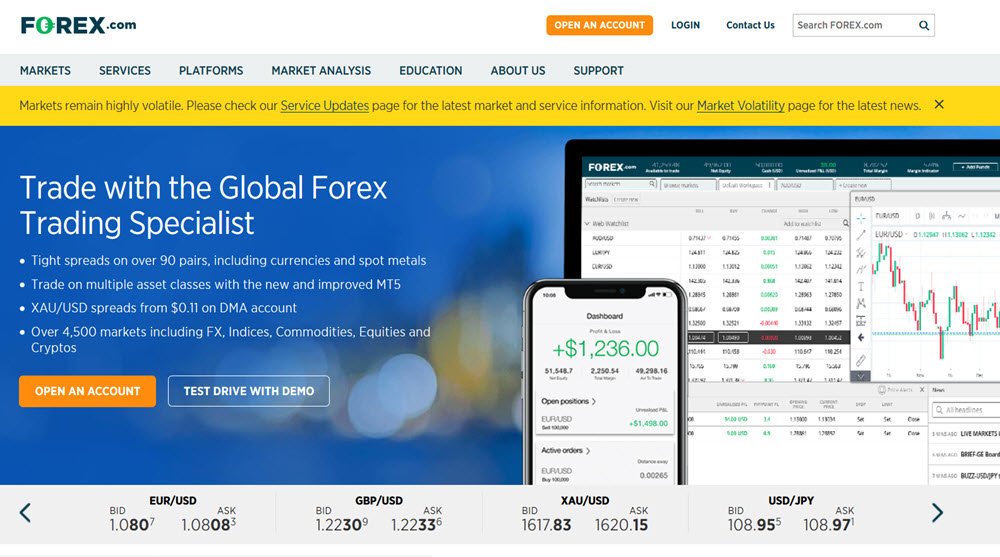 Account types
Real money
Exactly which account types that are available to you at Forex.com will partly depend on your location. In most parts of the world, there are three account types: Standard Account, Pro Account and Islamic Account. In some regions, a fourth account type is also possible: the Active Trader Account. Each account comes with its own requirements, e.g. the size of the minimum deposit and the size of the monthly balance and trades.
The Pro Account is for professional experienced traders and use another platform than the Standard Account. The FOREXTrader PRO trading platform is only available for those who have a Pro Account. You need to fulfil several requirements to be approved for a Pro Account, including doing a large enough deposit. Both Standard and Pro have their leveraged trading capped at 200:1.
The Islamic Account is adapted to fulfil Islamic requirements.
The Active Trader Account, which is only available to clients in certain locations, was designed with the needs of the very active trader in mind. Among other things, it comes with five discount levels based on your trading volume, and can do zero-fees trading. Quick priority customer support is available.
Play-money
Before you start risking any real money at Forex.com, we recommend that you play around in a Demo Account first. In a Demo Account, you trade using free play-money. You get $50,000 of this free play-money when you set up the Demo Account. It is a great way to learn the ropes and try out different strategies. When you feel ready, making a deposit and switching to real money trading is easy.
Trading platforms
At Forex.com, the platform selection depends on your account type.
MetaTrader4
FOREXTrader PRO (only for Pro Accounts)
Forex.com Web Trading
GTX Direc ECN (only for VIP clients)
MetaTrader4 is the most famous platform, and it is utilized by a wide range of online brokers world-wide. If you have traded online before, you might already be familiar with it, since it isn´t exclusive to Forex.com. For most hobby traders, and quite a few professionals, MT4 has everything you need.
FOREXTrader PRO is a proprietary trading platform for Forex.com. It is their flagship offer and comes with a wide range of tools, features, charts, indicators, etc. It is available when you have a Pro Account at Forex.com.
When Forex.com went through their major update in 2017, they launched a browser-based trading platform that they simply call Web Trading. It is powered by Trading View and is packed with excellent features. You don´t need to download and store anything on your computer; this is completely browser-based.
If you make a deposit of at least 100,000 USD you get access to GAIN Capital´s GTX Direct ECN platform. This is a high-end platform tailored to high-level clients. Among other things, is has a really exclusive news and analysis feature, and VIP customer support.
Can I trade on a mobile device?
Yes, Forex.com trading is possible on smartphones and tablets (both Android and iOS).
FOREXTrader has mobile app available for download
MetaTrader4 has mobile app available for download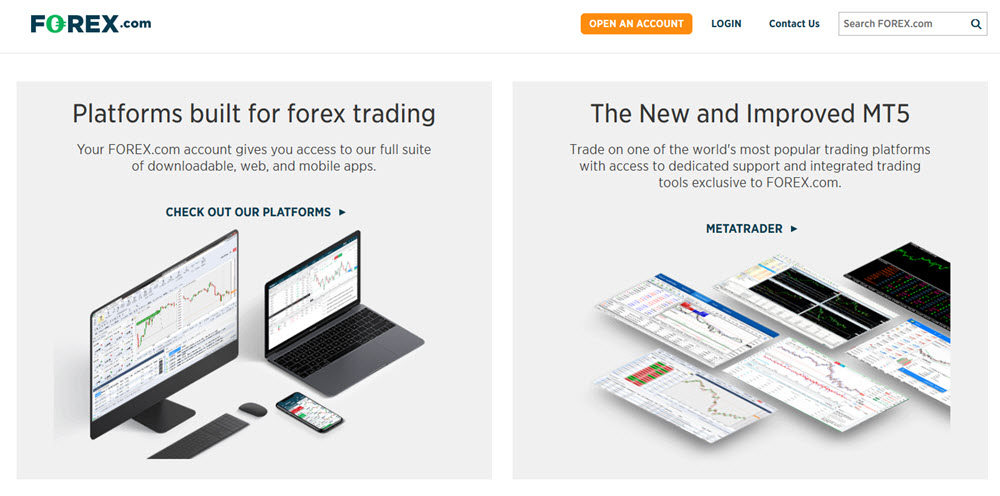 Spreads & Commissions
Forex.com have earned a great reputation among traders online by offering highly competitive spreads. It is important to know, however, that the spreads will vary depending on your account type and trade volume. For a Standard Account, at the time of writing, the normal GBP/USD spread is 1.1, the EUR/USD spread is 0.7 and the GBP/EUR spread is also 0.7.
For the Active Trader Account, there is a five-level pricing program where high-volume clients get smaller spreads.
Forex.com offers commission-free trades. They do however charge certain other fees, including a inactivity fee. As always, you need to take a look at the whole picture to find out if this online trader is the best choice for your particular trading style.
Does Forex.com offer leveraged trading?
Yes, Forex.com offers leveraged trading. The smallest leverage is just 1:1 and the largest is 200:1.
Deposits and withdrawals
Forex.com accepts wire transfers and major credit cards. We would like to see them expand their offering to include popular e-wallets, such as PayPal, Neteller and Skrill. Not being able to use any e-wallet or easy online bank transfer for deposits and withdrawals is a deal-breaker for many online traders.