Compared to most other online brokers, ETX Capital has roots that go back really far. The parent company to ETX Capital was founded in London back in the 1960s, so this is truly a well-established company group with more than half a century of experience in the industry. Monecor Ltd launched TradIndex in 2002, and five years later TradIndex became ETX Capital. In 2015, Alpari was acquired to boost the offering further.
ETX Capital is regulated by the UK Financial Conduct Authority (FCA) and must adhere to the strict rules set by the FCA.

Account types
Standard account (real money)
A vast majority of the traders at ETX Capital have a Standard Account, since they only other real-money account available is the Islamic Account.
You only need a $100 deposit to get started with a Standard Account, so it is within the reach of even small-scale hobby traders.
Both the proprietary TraderPro trading platform and the widely popular MetaTrader4 (MT4) trading platform are available to you when you have a Standard Account with ETC Capital.
Since there is no such thing as a separate Pro Account at ETX Capital, the Standard Account will give you full access to all the tools, info and features.
Islamic account (real money)
This type of account is adjusted to adhere to Islamic rules.
Demo account (free play-money)
With a demo account, you use free play-money for your trades. It is an excellent way to try out the platforms and learn how they work without risking any real money. You can also use the demo account to test out various trading strategies.
Trading platforms
Two different trading platforms are available to you when you have an account with ETX Capital:
ETX TraderPro
MetaTrader4
MetaTrader4 (MT4) is the most famous one, as it is utilized by a wide range of online brokers. If you have traded with other online brokers in the past, you might already be familiar with it. It is a full-range trading platform with a myriad of tools, info and features. Some examples of what you get with the MT4 platform are a big library of technical indicators, EA:s for automated trading, an adjustable layout, and multilingual support.
ETX TraderPro is a proprietary platform created specifically for ETX clients. Some examples of what you get with this platform are clever risk management tools, an adjustable layout, customizable indicators, a price alert feature, and the ability to create your own watchlists.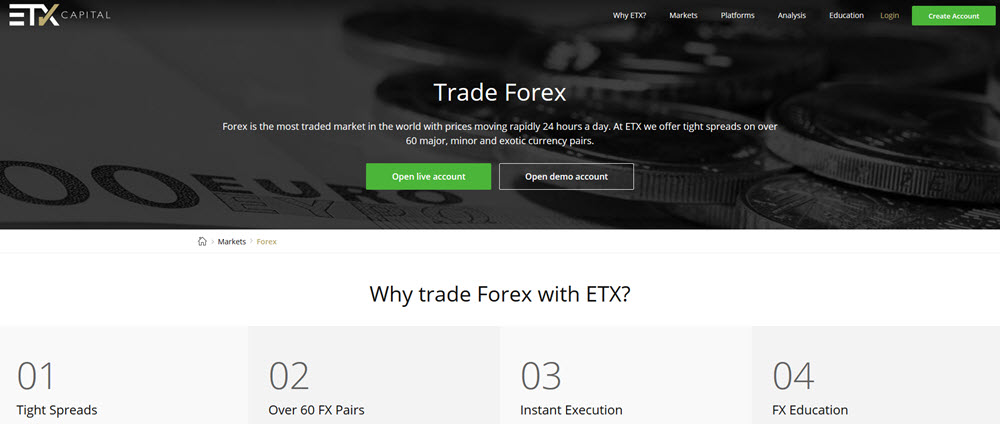 Can I trade on mobile devices?
Yes, both ETX TraderPro and MetaTrader4 have launched excellent apps for mobile trading on smartphones and tablets.
Apps for Android devices are found in the Google Play Store
Apps for iOS devices are found in the Apple App Store
Spreads & Commissions
ETX Capitals doesn´t charge commissions on trades. Instead, they make money from the spread. Yet, the spreads are not discouragingly large – and some are even highly competitive. How do you feel about a EUR/USD spread of 0.6 pips and a EUR/GBP spread at 0.9 pips?
As always, it is important to take a look at the whole picture to find out if this online broker is optimal for you, your preferences and your trading style.
Is ETX Capital offering leverage trade?
Yes, leveraged trading is available at ETX Capital.
Leverage is capped at 200:1.
Depositing and withdrawing money
Examples of transaction methods accepted by ETX Capital:
Wire transfer
Online bank transfer
Major credit/debit cards
China Union Pay
Skrill
Neteller
GiroPay
SoFort
Some of the transaction methods can be used for instant or almost instant deposits.
It is not unusual for withdrawal requests to need 2-3 business days to be processed.
You can withdraw money (minimum 100 USD) from your account five times per month without paying any withdrawal fee. If you withdraw money more frequently that this, you pay a 25 USD withdrawal fee (starting at withdrawal #6).