Casumo is a gambling site run by Casumo Services Limited, which in turn is owned by Casumo Holding PLC. Both are Maltese companies based in the town Swieqi. A holding company is a company that owns and invest in other companies.
The gambling site

The gambling site Casumo was launched in 2012 and got a lot of attention for its innovative and unusual loyalty program, where each player was assigned a sumo-inspired cartoon avatar who would embark on a step-by-step casino adventure to pick up various rewards and benefits along the way.
Originally, Casumo internet casino focused on casino games only, but a sports betting section was added in 2018 through a partnership with Kambi who provides the sports betting platform. In early 2020, Casumo announced that they would expand into the UK sports betting market.
The business group
Casumo Holding PLC has over a dozen subsidiaries, and the business group has offices in Malta, Spain and Gibraltar.
Casumo, Unicorn Centre, Triq Il-Uqija Swieqi, Malta
Casumo, Block 1, Suite 5B, Watergardens, Ocean Village, Gibraltar, GI
Casumo, Carrer del Taulat 27, Barcelona, El Poblenou 08005, Spain
The company number for Casumo Holding PLC is C63156.
Casumo Holding PLC is not publicly traded.
Gambling licenses
Casumo´s first gambling license came from the Malta Gaming Authority (MGA). Since Malta is a European Union member, Casumo used this gambling license to enter various European markets. Over time, many European countries change their gambling laws and made it possible for online gambling companies to obtain national gambling licenses. Casumo has gradually accumulated several of these national licenses to enter regulated national gambling markets, such as the Swedish market, the Danish market and the United Kingdom market.
Awards
Casumo had received a lot eGaming Review (EGR) awards, including 2013 Rising Star, 2014 Innovation in Casino, 2015 Innovation in Casino, 2015 Mobile Casino Product of the Year, 2017 Affiliate Program, 2017 Mobile Operator, and 2018 Mobile Operator.
Sponsorships etc
In 2019, Casumo (through Casumocares.com) raised over £6,000 for the independent UK charity GamCare.
In 2019, Casumo signed a sponsorship deal with the Reading Football Club in Berkshire, England.
Casumo is a long-term sponsor of the eSports organization Planet Odd. Currently, the main forcus of this organization is Hearthstone, Dota 2 and Counter-Strike: Global Offensive.
Affiliate program
The Casumo affiliate program is only available for certain European markets, such as Sweden, Norway, Finland, German, and the United Kingdom.
The name Casumo
The name Casumo is a combination of the words casino and sumo.
Casino is an italian word, and originally meant "small house". Today, we use it for gambling halls and similar establishments, both online and offline.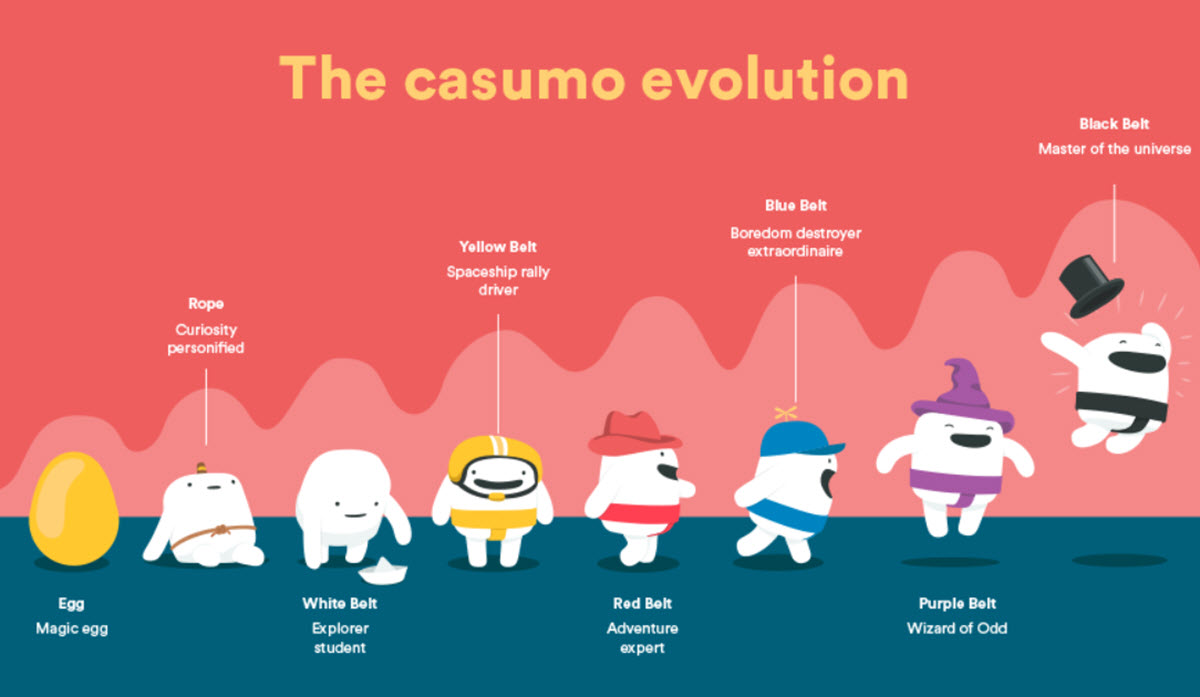 Sumo is a type of wrestling that originated in Japan. A sumo wrestler (rikishi) wears a belt that is tied in knots in the back. This belt is called mawashi. What mawashi a rikishi will wear depends on his rank. A low-ranking rikishi will wear a black cotton mawashi, while higher-ranking wrestlers wear different colours of silk mawashi during competitions.
So, why name a casino site Casumo? Because when Casumo was launched, it had a cartoon mascot inspired by sumo wrestling. This mascot also served as an avatar in Casumo´s innovative loyalty program adventure. The avatar wore a mawashi, and this belt could be upgraded to new higher-ranking colours as the player progressed through the loyalty program adventure.